The Group Leader Dashboard page puts group management into the hands of the Group Leader.  It is accessible only to Group Leaders and it is where the Group Leader is taken after logging into the Excelerate Learning Management System (LMS).  You can access your student page by navigating to Group Leader Dashboard under the "Manage" menu item.
The Group Leader Dashboard is where you will add and remove users, generate reports, and send group emails if needed. The summary information, at the top of the dashboard, is shown as follows: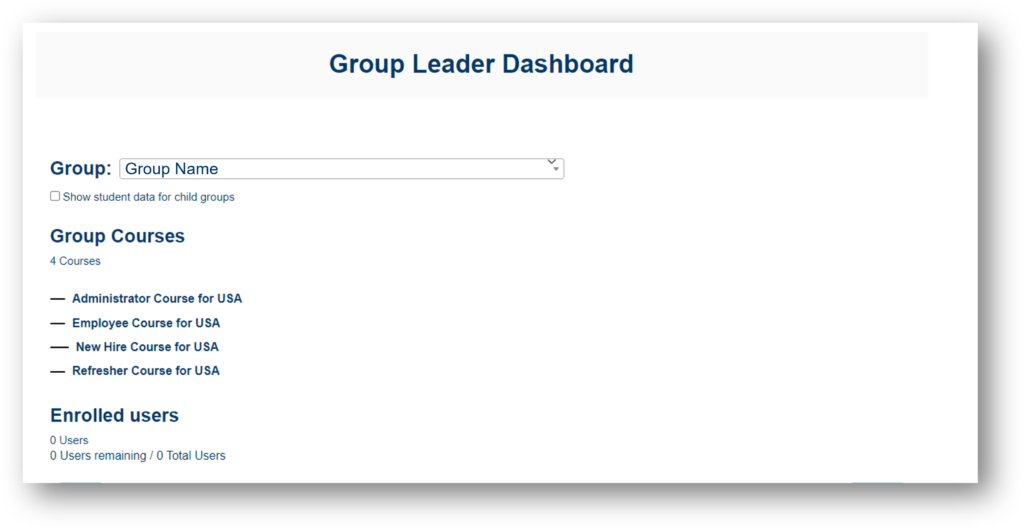 Group: This includes the name of the group that you are currently managing. The main group is displayed initially with the sub-groups being selected from the pull down menu if they are defined. Organizations often have subgroups for specific departments or types of users to control which courses the student can access.
Group Courses: This shows a list of the courses associated with the selected Group Name. For instance, you may have a sub-group named "Employees" and limit access to the Employee and the Refresher Courses.
Enrolled Users: This is a summary of the number of users associated with the selected group and the available uses to be assigned from the total users allocated to the group. If "Users remaining" is zero then you will need to add or allocate more users to that group.
The Group Leader Dashboard has many functions for managing user access to the training courses.